a/a
16. 4. 2018
Study circles exhibition at the Jakopič promenade in Ljubljana
The treasure of Slovenia is more than its rocks, its meadows, its forests and waters, the real treasure is a people who live the (modernised) tradition, give it a new life and new usage. The heritage is kept alive and its diversity ensures sustainability.
In May the study circles in the scope of the SIAE and the Ministry of Environment and Spatial Planning (Climate Change Funds) organised an exhibition at the Jakopič promenade in Ljubljana. The exhibition shows the lives of study circles, most of which are closely connected with the environment, and their contribution to progress. Preservation of the environment as a value is a trend that is also appreciated by the more and more numerous visitors to Slovenia. It connects with the future in the form of high-tech achievements and springtime activities of study circles in Ljubljana.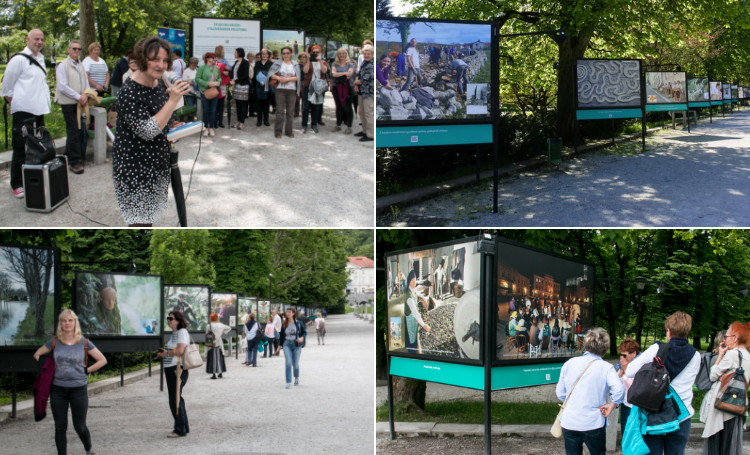 The living heritage contributes to sustainability by teaching us how to coexist with each other, with the environment and with time. The study circles, which see an increase in the number of participants thanks to the excellent mentors, express and cultivate this idea.
The exhibition at the 25th anniversary of the study circles reflects the diversity of locations and participants, it expresses the language patterns, the local customs, the variety of organising and learning patterns and also some overlooked or hidden ideas. The technological innovations spread the same message as the heritage – they follow the principles of ecosystems. Reciprocal and complementary relationships within the groups and between the study circles and the local environment have a clear goal – to improve the life of a community in the given environment. Non-formal education is an excellent format, where the responsibility is shared by the participants and the benefits are available to all.
You can read more about the exhibition at  https://sk.acs.si/izkaznica/razstava (in Slovenian).